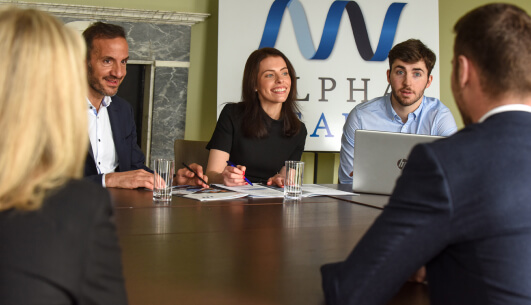 WHY A PERSONAL PENSION PLAN?
Starting a pension is one of the smartest decisions you could make
Alpha Wealth financial advisors can help ensure a brighter, better future to look forward to. When you're choosing a pension, having all the information you need is key. So we're here to help you select one that's right for you.
Book An Appointment Now
THE BENEFITS OF SAVING FOR RETIREMENT
Personal pensions are made over-complicated by an industry which uses a lot of jargon!
TAX RELIEF – You get 20% or 40% refund (Tax relief) on the payments you make – depending on whether you are earning more than the standard rate threshold.
TAX FREE GROWTH – Your fund grows Tax Free.
TAX FREE LUMP SUM – You get a portion (typically 25%) of the fund Tax Free when you retire.
---
How Alpha Wealth can help you?
Group Company Pension Schemes
When it comes to pension schemes, we believe in choice and flexibility so it's important to find a pension that matches your lifestyle and expectations for the future.
There are a number of options available to you to set up a pension. You can opt for a Personal Pension Plan, a PRSA (Personal Retirement Savings Account) or Self-Directed Pension and much more.
Personal Pension Plans
It is essential for employers to understand and meet the legal requirement to provide their staff with access to a personal pension scheme.
We can help take the pressure off employers, bring clarity to employees and help educate them about the importance of pensions. They are also a great way to retain and attract new talent to your business.
Personal Retirement Savings Account
Anyone up to age 75 can take out a PRSA, you don't have to be earning an income to do so. You can also save tax on contributions you make to a PRSA.
Save more for your retirement with a flexible Personal Pension policy.