As a multi-agency broker, Alpha Wealth provide exposure to an extensive range of personal, pension & company investment options, consisting of, but not limited to the below. Please contact us at nick@alphawealth.ie or dlooney@alphawalth.ie to discuss a more broad range of options
The BlackBee Atlas Portfolio
The BlackBee Atlas Portfolio is an exceptional opportunity to invest in a prime Dublin commercial portfolio with a value in excess of €400m.
BlackBee has a track record of collaboration with Asset Manager partner RQTwo to invest in well-located, strongly defined, tenanted office property with asset improvement possibilities. The target portfolio primarily consists of stabilized income producing, optimally located commercial property assets. BlackBee will implement an innovative structure to acquire control over the assets via the acquisition of Dengrove DAC, a vehicle used by global entity Colony Capital to house the assets. The structure is devised and managed by BlackBee.
Key Features:
Term – 3 years
Investment Arranger – Blackbee
Portfolio Asset Manager – RQTwo
Occupancy – 99%
Income Stability – €17m rent roll pa (85% rent from Bluechip Tenants)
Tenant profile – Amazon, Three Ireland, Byrne Wallace, Bank Of Ireland, Sky
Projected Return – 21% IRR (annual return) 63% over 3 years
Minimum Investment -€25k
Tax Treatment – CGT or Exit Tax where applicable
Available for Personal, Pension ,ARFs, AMRFs, Corporates, Charities & Trusts etc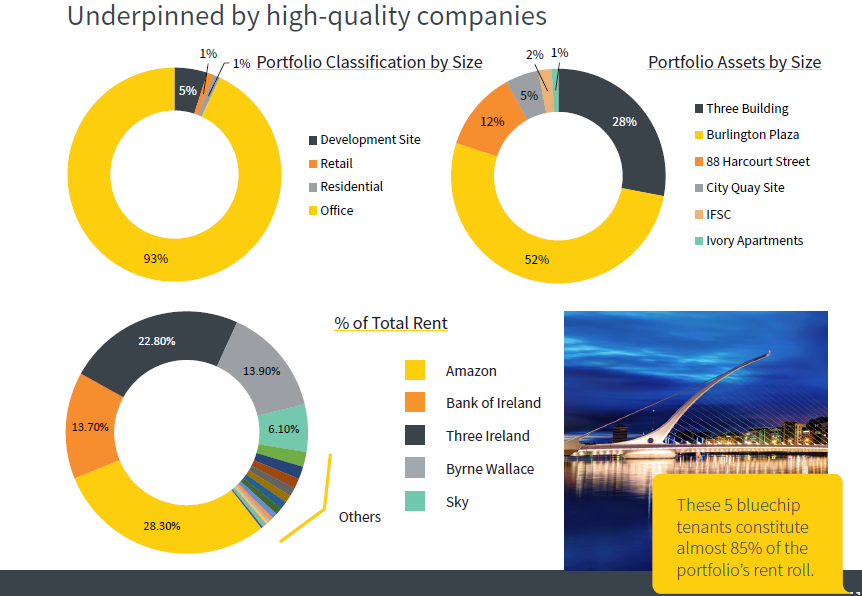 Social Housing Series 2 2023
BlackBee has identified a unique strategy to invest in social housing by targeting an existing stock of older or nearly complete blocks of residential units which require refurbishment or completion of fit-out. Following completion of the finishing renovation works, which will be undertaken by an experienced residential property developer, the units will be let on long term leases to Local Authorities. The leases will generate stable 25-year income underwritten by the Government and provide ideal characteristics for sale or restructuring as long term investments.
Investors will benefit from a first legal charge over the underlying assets. A loan-to-value covenant of 85% will be applied throughout the Investment . The Investment will aggregate a portfolio of 100+ units which is expected to result in yield compression and also prove attractive to long term income- seeking investors. The primary focus for exit is through a portfolio sale to a Social Housing Fund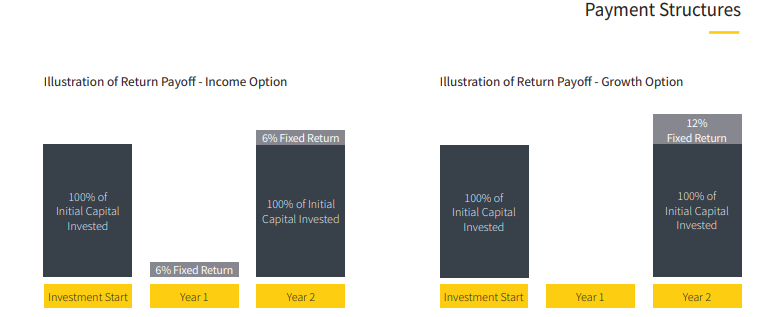 Double Opportunity Bond
The Double Opportunity Bond is an innovative new Investment Solution designed for investors who wish to invest in a Structured Retail Product that offers attractive potential investment returns linked to the performance of 3 companies with the potential to benefit from the Stay at Home COVID 19 restrictions; and for investors seeking a risk-reducing mechanism to provide a degree of protection from normal stock market risk. The Bond is suitable as part of the process of constructing a genuinely diversified investment portfolio
The Underlying Investments of the Bond are 3 large companies that have the potential to benefit from the Stay at Home COVID 19 restrictions: Microsoft Corporation, Netflix Inc, Amazon.com Inc
Key Features:
The Term is 5 years.
Maximum Investment Return: 43.5%.
The Bond will be listed on the Luxembourg Stock Exchange.
Daily liquidity will be provided to investors that wish to sell the Bond prior to maturity under normal market conditions and at the discretion of Goldman Sachs International.
The Minimum Investment in the Bond is €25,000.
The Closing Date for applications is 26th of August 2020 (or earlier if fully subscribed).
Taxation: Irish Taxation treatment is uncertain in the case of Personal Investors and exempt from taxation in the case of Pension and Post Retirement Investors.
E-commerce Kick Out Bond
The Cantor Fitzgerald Ireland E-Commerce Kick Out Bond II (the "Bond" or "Investment") is a 5 year investment with the potential to redeem early or 'Kick Out' every 6 months after year 1 with a Potential Coupon Payment. This Bond has 9 potential opportunities to be redeemed on any of the Semi-Annual Valuation Dates between year 1 and year 5.
Key Features:
Potential returns of 10% p.a. even if the underlying stocks have fallen by up to 10%.
Additional Quadruple 40% Step Down Feature in year 2 (+20% return even if stocks have fallen by up to 40% during the first 2 years).
100% of Capital returned if Amazon.com Inc., PayPal Holdings Inc., FedEx Corp and Smurfit Kappa Group PLC are each equal to or above 50% of their Initial Price Level on the Final Valuation Date.
5 Year investment with 9 potential opportunities to redeem every 6 months from year 1 onward.
Guarantor: Societe Generale (Moody's A1 / S&P's A / Fitch A+).*
Brochure
https://cantorfitzgerald.ie/wp-content/uploads/2020/05/E-COMMERCE_KICK_OUT_BOND_II_BROCHURE-LR-1.pdf
Blackbee Healthcare Bond IV
The BlackBee Healthcare Bond IV will provide secured shares in The BlackBee Healthcare Fund, while the Fund will seek to achieve its investment objective through core strategies of acquisition, development and operational excellence.
The BlackBee Healthcare Fund is a regulated fund, which invests in the private residential care sector, incorporating Aperee Limited as its operating company. The strategy involves the acquisition of existing operating residential care centres, and the development of new state of the art facilities.
The BlackBee Healthcare Bond IV will give investors the option of receiving a fixed 4.5% coupon paid annually* for the term of the bond or 22.5% paid at maturity* (depending on availability).
Key Features:
Fixed Return of 4.5%* per annum or;
22.5% Paid at Maturity* (subject to availability)
Secured by Shares in the BlackBee Healthcare Fund
Typically Uncorrelated Asset Class
5 Year Investment Term (No Liquidity)
Minimum investment €10,000
Distribution fee 3% plus 0.5% p.a. trail fee
Brochure
https://mcusercontent.com/42b020886dcd6d95c7177569b/files/dc81b397-8897-4fbc-bf4f-587ada86a089/BlackBee_BlackBee_Healthcare_Bond_IV_Brochure.pdf